The European Commission (EC) has approved Samsung Bioepis' Ontruzant, a biosimilar version of Genentech's Herceptin (trastuzumab), for the treatment of breast cancer in early and metastatic stages and also for metastatic gastric cancer.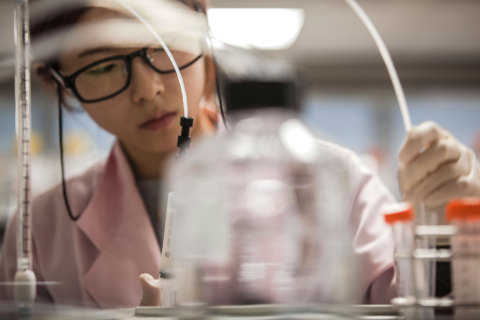 Trastuzumab, which is a monoclonal antibody, is the active substance in Ontruzant. This antibody binds with high affinity and specificity to the human epidermal growth factor receptor 2 (HER2) gene.
The binding results in the inhibition of the proliferation of tumour cells that overexpress the HER2 gene, which is considered to be one of the causes in the development of breast cancer.
Samsung Bioepis president & CEO Christopher Hansung Ko said: "Breast cancer remains the most common form of cancer affecting women. We hope Ontruzant will play an important role expanding patient access to trastuzumab across the region.
"Through relentless process innovation and an uncompromising commitment to quality, we remain dedicated to advancing one of the industry's strongest biosimilar pipelines, so that more cancer patients and healthcare systems across Europe will benefit from biosimilars."
Ontruzant's approval in Europe comes after the positive opinion adopted by the European Medicines Agency's (EMA) Committee for Medicinal Products for Human Use (CHMP) in mid-September.
The drug is the first trastuzumab biosimilar to be approved in Europe.
MSD, which goes by Merck in the US and Canada, will commercialize the Samsung Bioepis trastuzumab biosomilar.
The approval of Ontruzant from the Commission applies to all the European Union (EU) member states and the European Economic Area (EEA) member states of Norway, Liechtenstein and Iceland.
Ontruzant is now the fourth biosimilar developed by Samsung Bioepis that has secured EC marketing authorization. Previously, the company received approvals for Benepali (etanercept), Flixabi (infliximab) and Imraldi (adalimumab).
Earlier in the month, Samsung Bioepis' trastuzumab biosimilar was approved in South Korea by the Korean Ministry of Food and Drug Safety for treating metastatic breast cancer, early-stage breast cancer and metastatic gastric cancer. In South Korea, the biosimilar is branded as Samfenet.
Samsung Bioepis' trastuzumab biosimilar gets EC approval for breast cancer