Pharma firms prefer to go with the existing brand names for new fixed dose combinations (FDCs) as it is easier to market them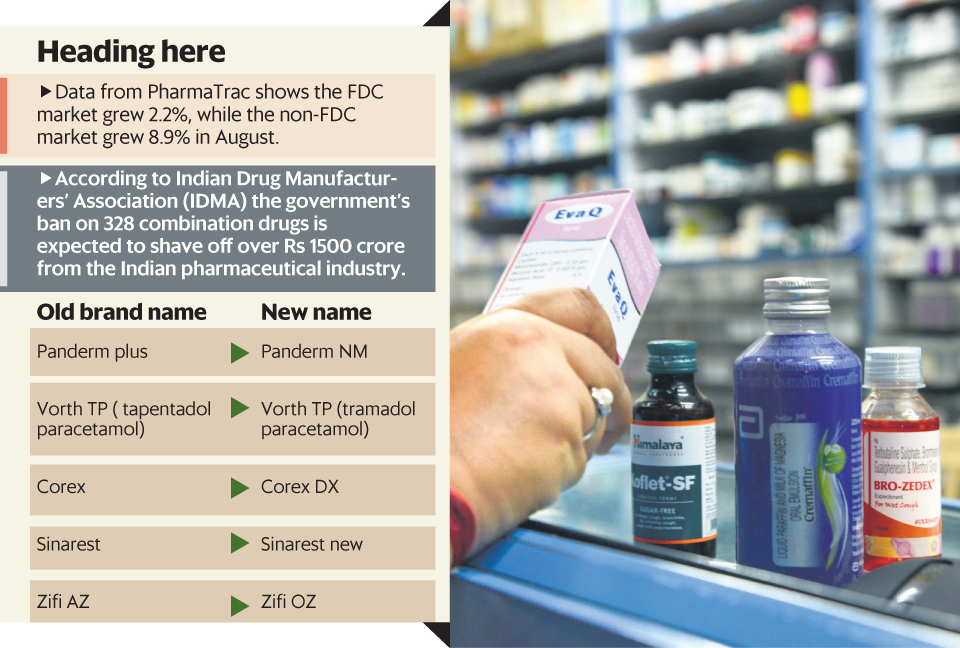 What's in a name? A lot, according to pharmaceutical companies, many of whom have already launched or are gearing up to introduce new fixed dose combinations (FDCs) by tweaking the compositions but retaining the same brand name as the original product.
For example, in 2016, when popular cough syrup Corex was banned, Pfizer Ltd, the Indian subsidiary of US-based drug maker Pfizer Inc., was quick to discontinue the cough syrup Corex in its then form, changed the composition but decided to retain the brand name for its future respiratory products. The company decided to stop making the Corex cough syrup formulation, a combination of codeine phosphate 10 mg and chlorpheniramine maleate 4mg, changed the formulation and extended the same brand name. The new formulation is now called Corex T (Codeine + Triprolidine) .
According to Pfizer spokesperson "Pfizer discontinued the manufacture of 'Corex Cough Syrup' in 2016 as an outcome of a regular review of the product portfolio. However Corex remains an important umbrella brand for Pfizer that has long been associated with a broad range of safe and effective products and continues to be an essential part of our portfolio."
Likewise, Glenmark Pharmaceuticals Ltd's pain relief formulation called Vorth TP earlier contained tapentadol and paracetamol. It has now been tweaked to include tramadol and paracetamol. The brand name, however, remains unchanged.
Experts said companies prefer to continue popular brand names for new products containing different ingredients as it becomes easier to market them. "The companies want to retain the brand name as they spend a lot of money in building a name. As long as it is for the same indication by virtue of reformulation to make it a rational combination, the companies prefer to use the same name," said D.G. Shah, secretary general of Indian Pharmaceutical Alliance, which represents large number of domestic drug makers. Shah said extending the brand names to new products also make it easier for doctors and chemists to remember while dispensing or prescribing the medicines.
"The brands have been in the market for decades and companies invest a lot on these brands. Hence, they would like to save them by moving to combinations that have been approved by the Drug Controller General of India for the same indication with the addition or change of a suffix or prefix to the original name," said Sunil Attavar, president, Karnataka Drugs and Pharmaceuticals Manufacturers' Association.
The Union health ministry on 12 September, banned about 328 FDCs after an expert panel formed under the chairmanship of Nilima Kshirsagar, professor of head clinical pharmacology at G.S. Medical College KEM Hospital, Mumbai, to review the safety, efficacy and therapeutic justification of these drugs, found these FDCs "irrational", citing safety issues and lack of therapeutic justification, recommended the ban. The ban on FDCs included painkillers, anti-diabetic, respiratory and gastro-intestinal medicines.
While Glenmark, Wockhardt Ltd, Alkem Laboratories Ltd, Obsurge Biotech, Coral Laboratories, Lupin, Mankind Pharma, Koye Pharmaceuticals, Macleods and Laborate moved the high court against the ministry's decision, some companies are busy tweaking compositions and launching their new formulations in the market.
Macleods Pharmaceuticals, which makes anti-fungal Panderm Plus is gearing up to launch its new combination called Panderm NM and is awaiting approval from India's drug regulator.
"Panderm Plus steroid has been fixed with an antibiotic which is never allowed in any country of the world and that is the reason that it has been banned," Chandra M. Gulhati, editor, Monthly Index of Medical Specialities (MIMS).
An FDC drug contains two or more active ingredients in a fixed dosage ratio. The ban covered about 6,000 brands from top pharma companies, including Pfizer, Wockhardt, Alkem Laboratories, Cipla, Sanofi India and Sun Pharmaceutical Industries Ltd.
Drug firms retaining old brand names for new medicines