San Francisco-based transportation network company, Uber, is looking to expand their outreach to the clinical research community with the launch of Uber Health, a new dashboard the company hopes will remove transportation as a barrier to proper care.
Using Uber Health, doctors and hospitals will be able to arrange rides for their patients even if the patient hasn't downloaded the Uber app or does not have a smart phone. Uber Health has been used in beta testing by around 100 hospitals and doctors' offices since July.
Patient transportation has been the focus of the ride-sharing industry for some time with Uber announcing in October 2016 a non-emergency medical transportation pilot program in conjunction with Circulation. Circulation also announced a preferred partnership with Lyft last year.
Uber Health will address a growing need in the clinical research industry, the company believes. Citing a report by SCI Solutions, Uber says missed healthcare appointments in US alone costs the industry $150 billion a year, and the rate of no-shows in 2017 reached 30% nationwide.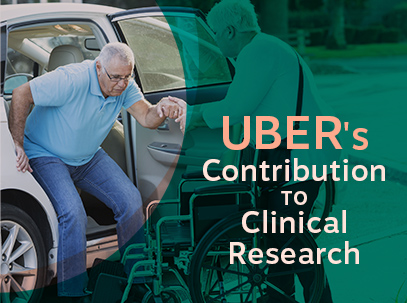 Brad Rosenthal, Uber Health's Head of Business Development, tells Clinical Informatics News that Uber wanted to approach this new service with patient privacy in mind, working with the idea for a service like Uber Health for two years and making sure the system was HIPAA-compliant before moving toward beta testing.
"In the clinical trial space in particular, we have heard over and over again that recruitment and retention are major issues, to the extent where transportation is a burden and ultimately a barrier for trial retention" Rosenthal said. "We hope we can alleviate some of that."
Currently Uber Health is leveraging all of Uber's 750,000 US drivers, a choice Rosenthal says helps put focus on the reliability of the service. "We talked about designating specific Uber drivers for Uber Health, but ultimately we felt that would limit the range of exposure to the service."
Another focus for Uber Health was limiting the amount of effort on the patient's part to order the rides. All of the steps from ordering to paying for the ride (which can be handled as either part of the patient's bill or the organization's budget) are handled by the healthcare organization, says Rosenthal. That includes the overall health and safety of the patient and evaluating the potential risk of ordering an Uber ride for a given patient.
Uber Health is not an ambulance service, Rosenthal says. "The organization ordering the ride should be confident that the patient is healthy enough to be in the back seat, and if they're not they should really be calling 9-1-1."
According to Rosenthal, Uber Health is available in two versions. As a standard web-based dashboard, hospitals and clinical trial sites can use Uber Health to arrange transportation for instant pickup or schedule for up to 30 days before their patient's scheduled appointment. Uber Health also offers API functionality for the service, giving partners and customers the option to take all the capabilities of arranging transportation and building out their current technology to include these capabilities.
"The functionality between our web-based dashboard and our API is very similar," Rosenthal says. "But our API allows healthcare organizations to build additional features and ultimately tailor it to how they would like."
One example of Uber Health's API capability is through their partnership with healthcare technology company Bracket, who offers research patients the ability to request transportation through Bracket's Patient Engagement app.
"There's a growing array of parties that are trying to impact and improve the patient experience in one way or another, and they're all distant from each other," Jeff Lee, President of mProve Health (a Bracket company), told Clinical Informatics News in a phone interview. "So when a patient joins a study they're probably seeing technology from a half dozen or more different providers. That's quickly becoming an incoherent experience for the patient. Our goal is to help make that all a bit cleaner, [providing] a one-stop shop."
Bracket is looking to use Uber Health's API as a more on-demand feature, allowing the patient to request a ride for themselves at any given point and at any given location.
"Sometimes you go to your doctor's appointment and you're not sure where you're going after your visit, or you don't know where you're going to be prior to your visit," Lee says. "Being able to have the patient initiate the ride themselves and have the whole ride experience with all of the Uber hallmarks, is a really complementary way to add value for the patient."
Rosenthal says the new service has been received well in the clinical trial space, and the company is presently working to connect with a growing clientele he says Uber has not historically interacted with: patients without smart phones or mobile phones at all.
"One of the features we're currently in build-mode on is interacting via landline," Rosenthal says. "The question becomes, 'How can we work on automated reminders through a landline that [a patient has] an appointment and that they've been matched with a driver with license plate XYZ driving such-and-such car?' I think the focus now is how do we work on continuously improving the patient experience."
Lee believes Uber Health is one of many examples where companies are starting to pay attention and devote time and energy toward clinical research.
This is starting to feel like science fiction, Lee says. Between services like Uber Health reaching directly to the patient and the discussions that Amazon could utilize their Echo Dot as a patient-reported outcome instrument, Lee believes we are moving forward into the space of true patient engagement.
"I think patient centricity and patient engagement are these catch-all terms that mean everything and mean nothing at the same time," says Lee. "We're really proud that patient engagement means something specific to us. We know how to put it into practice, and we think things like this type of service can make the patient's life easier using technology. It's real patient engagement."