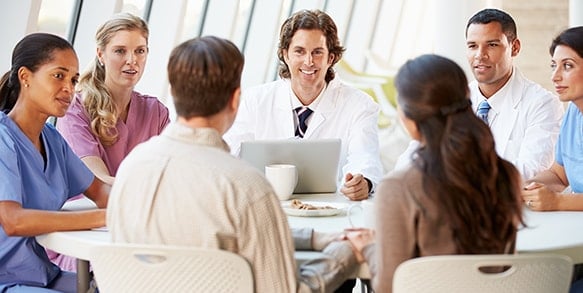 Where do doctors see patients with rare diseases, how do they keep up with treatment advances and what can pharmaceutical companies do to help?
Those were just some of the questions addressed by exclusive research carried out by Cambridge, Massachusetts-based healthcare market research company MedPanel for this issue of pharmaphorum's Deep Dive magazine.
The cohort of 100 doctors that took part in the online research are among those at the frontline of treating patients with rare diseases. On average 75% of their professional time is spent on patient care.
The survey focused on five rare diseases: multiple myeloma, lupus, haemophilia, spinal muscular atrophy (SMA) and cystic fibrosis patients (CF). The doctors within the survey that see these patients specialise in rheumatology (25% of respondents), haematology (22%), neurology (18%) and oncology (17%).
Where do doctors see rare disease patients?
Looking at the most common pathway that patients with rare diseases follow when they come into the care of the survey's respondents, the single most common route to a rare disease specialist was via referral from a non-specialist provider. Indeed, in the UK this is essentially the only pathway that can be followed.
US-based doctors treating rare diseases said that a few of their patients would be self-referred or come to them based on a recommendation from another patient with the same condition (about 8-10%). Smaller numbers of patients are still steered to them by advocacy groups or referred by a hospital (about 4%). Nevertheless, 72% of patients seen in the US were referred from a non-specialist provider.
How do rare disease doctors keep up with new developments?
Almost 90% of respondents feel they are keeping up to date with treatment options for the rare diseases they deal with, and the same proportion feel that pharmaceutical manufacturers support their efforts to stay current on treatment options.

When it comes to the type of support that these physicians lean towards, journals and conferences/seminars are almost universally relied upon to help 98% of the physicians questioned remain current in their specialty.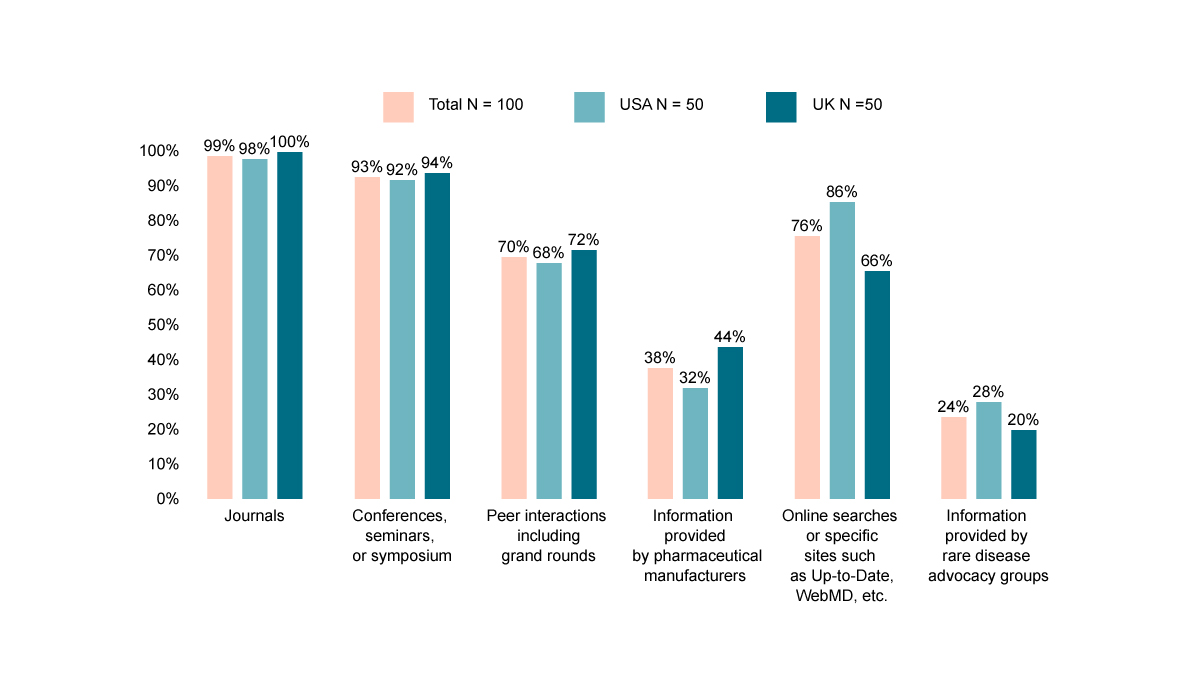 Online searches were cited by over 70% of the physicians surveyed, and for an average 70% of doctors it was interactions with their professional peers, such as grand rounds, that were their favoured means of staying up to date.
Other channels seen as important were information provided by rare disease advocacy groups (relied upon by 20-30% of doctors) and information from pharmaceutical companies (30-40%).
What challenges do these doctors face?
Limited treatment options was the greatest challenge noted by the survey's doctors treating rare diseases, so it's no surprise that they viewed the most exciting development on the horizon as being new treatment options, with biologics and immunotherapy finding particular favour.
Drilling down into what they would wish to see from medicines, there was a wish for safer treatments that can be taken on a long-term basis, while a common complaint was the lack of biomarker availability to help guide either treatment decisions or patient monitoring.
The second most frequently mentioned challenge was with the disease complications that they see, noted by 29% of respondents. Meanwhile, 10% of respondents focused on 'patient access challenges', in terms of getting patients to disease experts or getting them access to newer therapies.
Compliance, traditionally an issue well-understood by the pharmaceutical industry, was seen as less important for the doctors in this survey, with just 6% of them saying it presented a challenge, mainly in terms of patient fatigue with treatments and their long-term disease.
Market access issues, such as the cost of drugs, were also identified as issues for some. "In the UK, getting the drugs we want in the order and combinations that we want," noted one respondent, adding: "In the world [the challenge is] making CAR-T cheaper and less toxic."
Is greater rare diseases education needed?
The majority (84%) of doctors that took part in the survey were clear that more education about rare diseases is needed, with patients and non-specialist caregivers identified as those most in need of greater information about these conditions.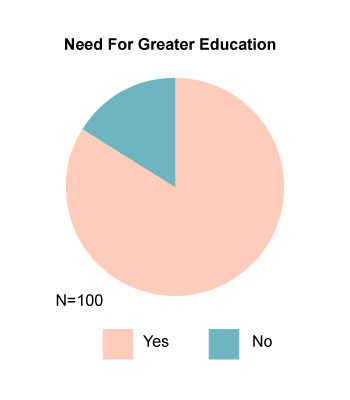 However, about half (55%) of the physicians surveyed admitted that they themselves would also benefit from more education about rare diseases, with that result found to be more pronounced among those doctors engaged in treating multiple myeloma, 61% of whom thought they needed more education.
Interestingly, respondents rarely cited the general public as a group that needs more education about rare diseases.
Do doctors work with rare disease patient groups or pharma?
The doctors in this study spent none of their professional time working with patient advocacy groups within rare diseases, and 43% went so far as to avoid any involvement at all, although 13% said they would have a low-key involvement.
However, they do have some potential exposure to the pharmaceutical industry. Two percent of respondents attend or present at medical conferences and 10% take part in research activities.
With that in mind, opinion was mixed as to whether the pharmaceutical industry should be involved with rare disease patient groups, with 26% of respondents saying they should not against 15% who thought they should.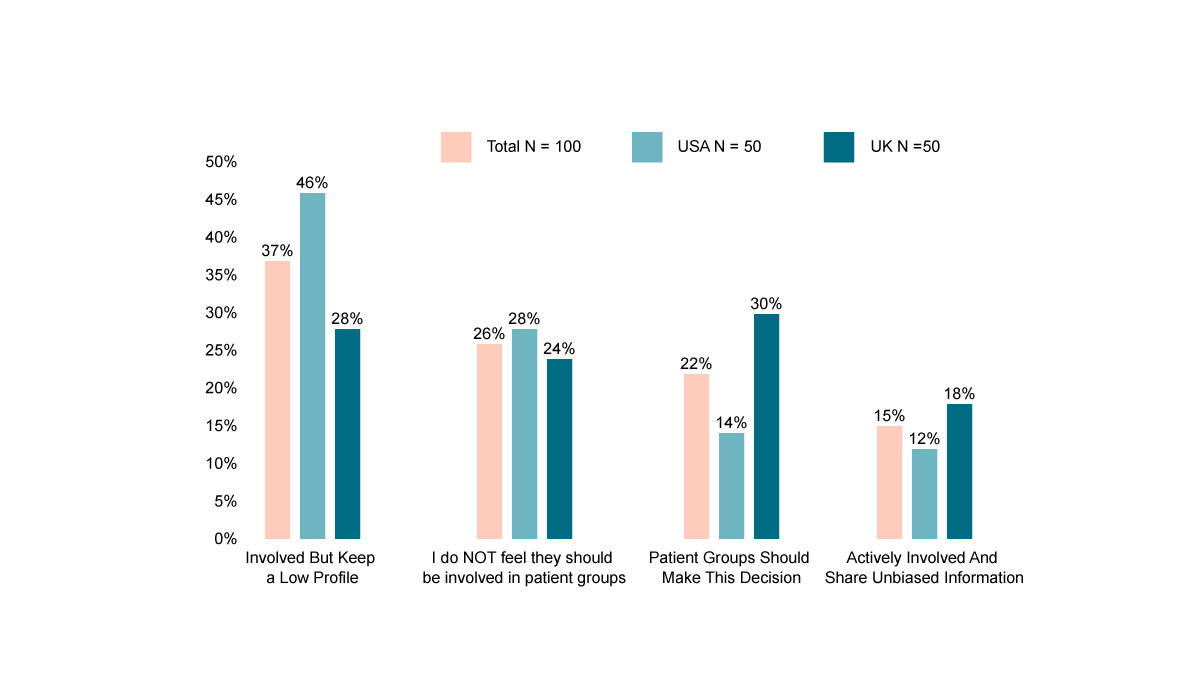 Looking at the smaller group in favour of pharma involvement with rare disease patient groups, the thinking was that sharing unbiased information would be the best way to do so.
How could pharma help?
Asked how pharmaceutical manufacturers could support non-specialist healthcare providers' educational needs, the provision of appropriate educational materials was mentioned by 70% of those surveyed as a way pharmaceutical manufacturers could provide education support.
Second to that, making online webinars available to non-specialist healthcare providers was cited by over 55%, followed by organising – and sharing – evidence-based outcome information (about 50% of respondents).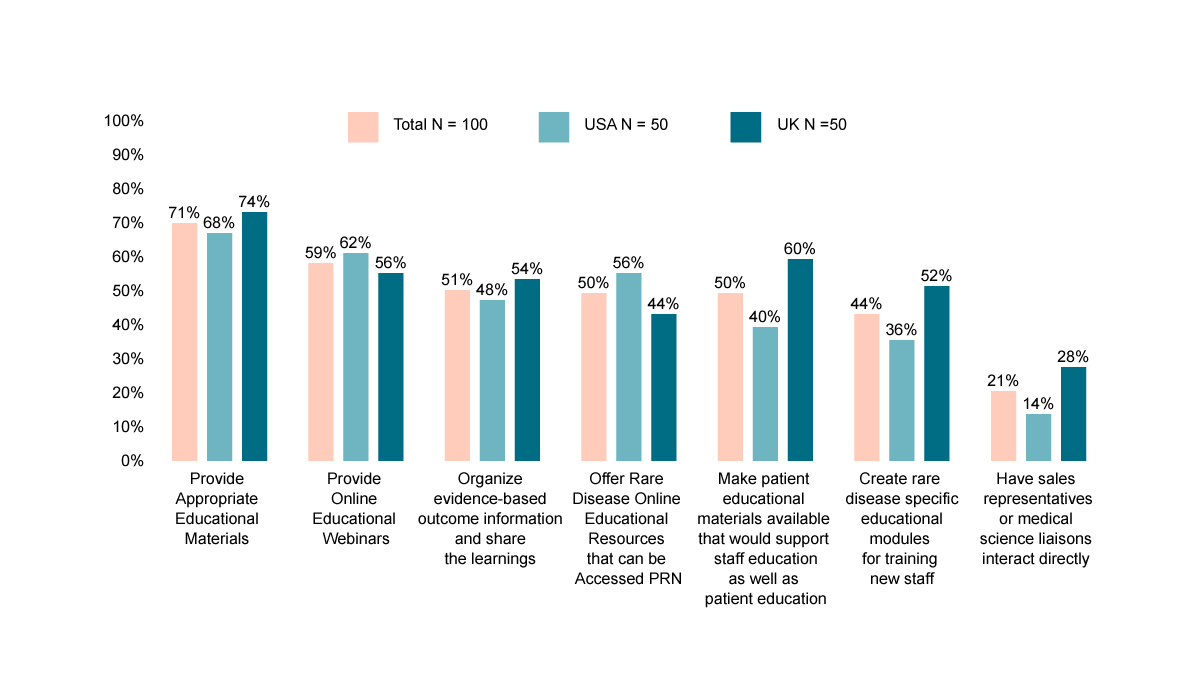 A sizable minority (40%) thought that having sales representatives or medical science liaisons interact directly with healthcare providers other than physicians was the best way to support their educational needs, but it was still the least frequently selected option.
On the question of how pharmaceutical manufacturers could better support doctors in their efforts to stay up to date on treatment options, offering educational grants was the most frequently chosen method of doing so. Such grants were chosen by 94% of UK physicians, but only 66% of their US counterparts.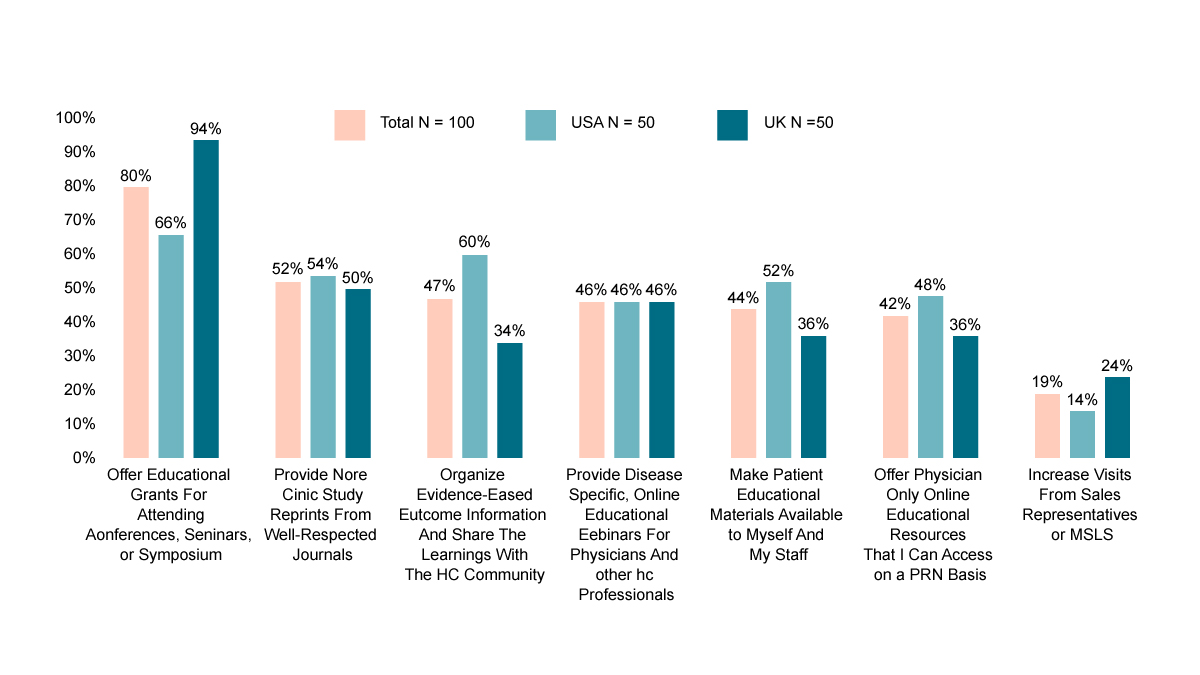 Providing more clinical study reprints from well-respected medical journals was the second most frequent choice.
However, increasing the number of sales rep or MSL visits was a relatively unpopular option for how manufacturers could better support doctors in their quest to stay up to date on treatment options, selected by only 19% of those surveyed.
The research
The research, produced exclusively for pharmaphorum by MedPanel, involved 100 'rare disease treaters', with the numbers split evenly between the US and UK.
The doctors that took part in the online survey during January 2019 treat one of five rare diseases: haemophilia, multiple myeloma, spinal muscular atrophy (SMA), cystic fibrosis (CF) or lupus.
Respondents had at least two years' medical practice and most of those who took part in the study had been in practice for 17 to 20 years.
Conclusion
The MedPanel poll of doctors was clear that most feel they keep up to date with treatment options for the rare diseases that they treat, and that the pharmaceutical industry supports their efforts to stay current.
Around 7,000 rare diseases have so far been identified, but treatments for them remain few. So, it's no surprise that the doctors in our survey said that limited options were the greatest challenge that they faced.
Improving that situation remains the biggest contribution the pharmaceutical industry can make. But in the meantime, as the survey showed, help with education and – for some at least – working with patient groups would benefit from pharma's focus.