Pfizer, Roche and Novartis top the pharma table – and are set to stay there until at least 2022.

Novo Nordisk predicted to deliver the greatest return on investment.

But cell and gene therapies, plus AI, digital tech will disrupt pharma business model.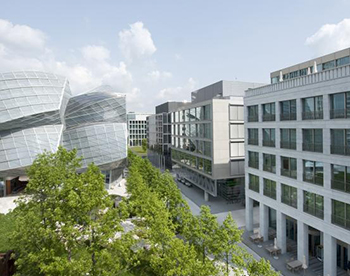 Analysts casting their eyes forward to 2022 see big pharma maintaining its position in the sector, protected by vast war chests and ready to pounce on any newcomer that shows promise. Here pharmaphorum's Andrew McConaghie crunches the numbers.
In June 2017 Evaluate Pharma unveiled its forecasts for what it believed the pharmaceutical industry would look like in 2022. This is, of course, five years away, which can seem like a lifetime in our increasingly high-speed and unpredictable world.
It is just 10 years since the iPhone was launched, but its influence has been enormous, creating a truly interconnected, digital life for people in all parts of the globe, and also making the once also-ran Apple into the world's biggest corporation.
Probably the closest equivalent in pharma is Gilead, which has witnessed a meteoric rise thanks to the launch of its groundbreaking hepatitis C drug Sovaldi.
It was approved just three-and-a-half years ago (December 2013), and has made a lasting impact on pharma and healthcare systems. It not only brought a cure to millions of patients for the first time, but it has also altered the relationship between the industry and payers forever (though not necessarily in pharma's favour).
There is undoubtedly further 'disruptive innovation' on the horizon, but how will it affect the way new medicines are discovered, developed and marketed?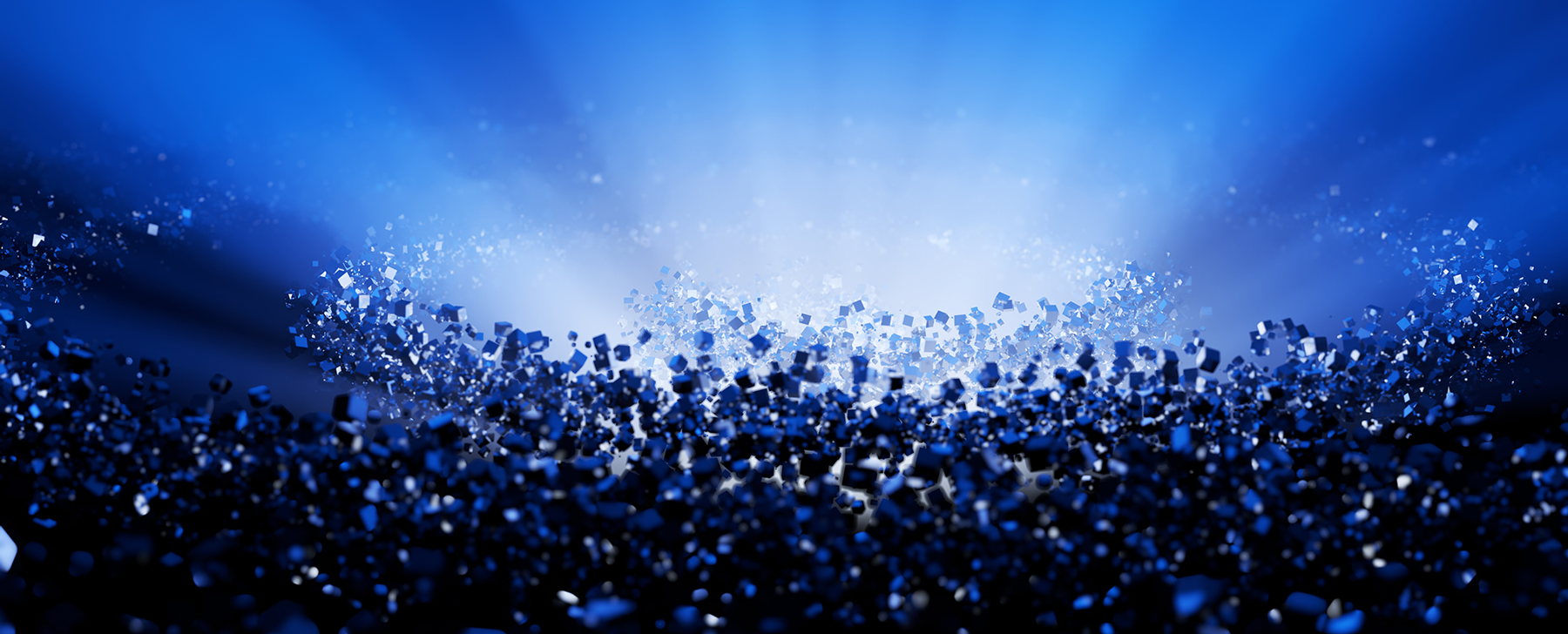 Could anything come along and make these companies extinct overnight, like a giant technological meteorite wiping out pharma dinosaurs?
Certainly, Evaluate Pharma doesn't predict any great changing of the guard at the top of the industry.  Just look at the three companies predicted to lead the sector in 2022, and consider how long they have been around: Pfizer was established in 1849; Roche was set up in 1896, and Novartis, tipped to be number one in five years' time, can trace its roots back to two originator companies, one established in 1859, the other in 1886.
This triumvirate currently sits atop the pharma sector table, and analysts like Evaluate see no reason to believe they won't be there in five years' time.
There are a few simple reasons for this: these companies have proven themselves adept at adapting to changing environments, and have huge war chests to simply buy themselves out of trouble when the need arises.
But of course, that's the nature of change: sometimes, you just don't see it coming or, even if you do, you can't get out of the way fast enough.
The most notable example of this in recent corporate history is Kodak, the film and photographic company, which had its roots in the chemicals business closely related to pharma, and was established in the same era, in 1888.
Kodak failed to realise that digital photography would sweep away the old analogue technology within a very short space of time, and paid the price when it filed for bankruptcy in 2012.
So far, no big pharma company has come anywhere near to bankruptcy, and they remain among the most secure firms in any sector.
Most of the biggest companies have, in addition to their huge financial firepower, some diversification to counterbalance the high risk/high rewards R&D-based game.
Worldwide prescription drug sales (2016-2022): Top 20 companies and total market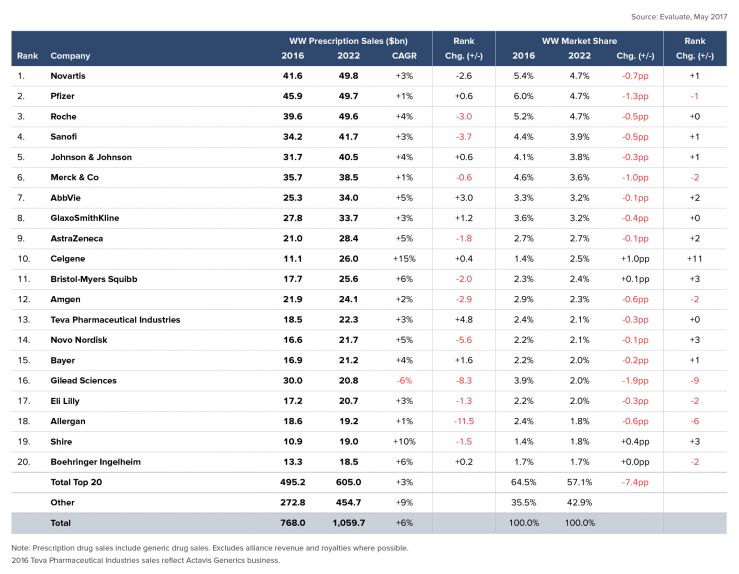 Pfizer and Novartis both have generics/biosimilars arms, while Roche has a diagnostics division (the latter currently a commercial slow-burner, but one which is likely to play an increasingly important role in healthcare).
Indeed, the only company expected to sink rapidly down the rankings over the next five years is Gilead. That's largely based on the fact that it has been (in part) a victim of its own success in hep C, and won't be able to sustain the surge in revenues it achieved in 2014 and 2015.
The company's management are currently reticent about spending its $31 billion in cash funds, and Evaluate Pharma thinks this and a tailing-off in hep C revenues will see it fall a full nine places in the industry rankings.
Of course, Evaluate hasn't factored in the possibility of Gilead finally losing its inhibitions and making a 'mega merger' or another canny Pharmasset-type acquisition, both of which remain possibilities.
Success in pharma is certainly not directly tied to a diverse portfolio – with its specialisation in diabetes, Novo Nordisk is probably the top 20's most focused/exposed company, and is expected to rise three places, to 14th, by 2022.
There is growing talk of a cure for type 1 diabetes being a possibility in the next 10-20 years thanks to cell therapy research, but the sheer volume of patients requiring insulin and other diabetes products means Novo's business model won't be under threat for some time yet.
Indeed, Evaluate predicts that Novo will deliver the greatest return on investment in R&D, deals and M&A for the whole sector.
However, there is no doubt that revolutionary cell and gene therapies will have established themselves by 2022, and their long-term impact on pharma and healthcare systems could be far, far greater than that of Sovaldi.
Top 20 most valuable R&D projects (ranked by Net Present Value – NPV)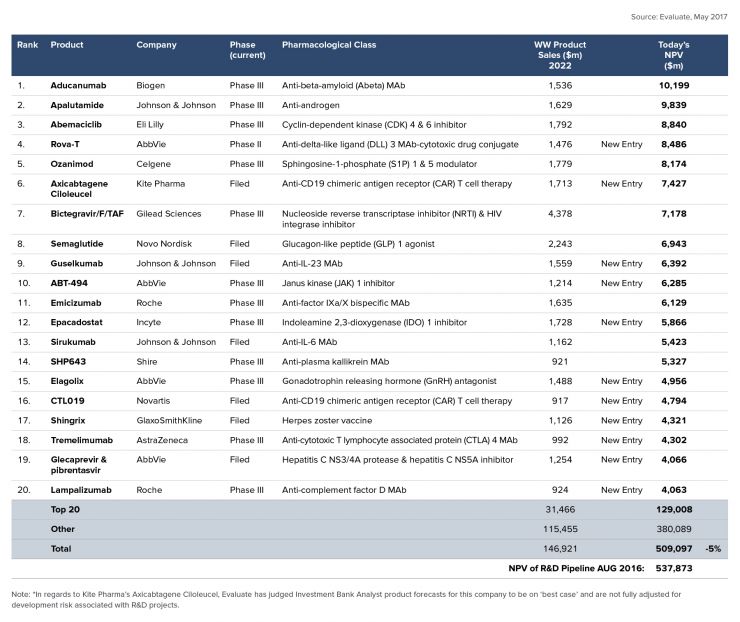 That's because many of these drugs could potentially offer a one-treatment cure for cancers and rare genetic conditions, which are intractable and often terminal conditions today. Already filed with the FDA, the rival CAR-T drugs from Kite Pharma (axicabtagene clloleucel) and Novartis' CTL019 are both tipped to be multi-billion dollar earners in cancer by 2022, though this will depend on just how many patients can achieve a long-term remission or a cure.
A handful of other companies, such as bluebird, Spark Therapeutics and Sangamo are all developing what could be curative gene and cell therapy treatments across a range of genetic diseases.
These drugs are expected to command extremely high prices – up to $1 million for a single, one-off treatment to cure patients. Such products will test the business models of pharma, and the resources of healthcare systems, enormously.
However, it's by no means assured that these new cell and gene therapy companies will muscle in to the big pharma clique – bluebird, Spark Therapeutics and Sangamo have strategic deals with an existing big pharma company (both Pfizer in the second two cases) and these could swoop to acquire a firm once its candidate has proven its value.